With 30 years experience in logistics in Tasmania - we know what works
We are your local logistics solution with the technology, infrastructure, and skilled workforce, to enhance your operational systems.
Streeflands Logistics Solutions is a family owned and operated logistics company based in Launceston, Tasmania. We provide contract logistics throughout Tasmania, servicing the Fast Moving Consumer Goods sector.

Streeflands is dedicated to quality of service with a team of motivated professionals committed to exceeding our client's requirements and expectations. We strive to be renowned for our continuous commitment to improving services, providing a positive and safe workplace, and always work with up-to-date technologies and equipment.
With our head office in Launceston, our fleet also operates from a number of bases throughout Tasmania providing professional logistic solutions and warehousing.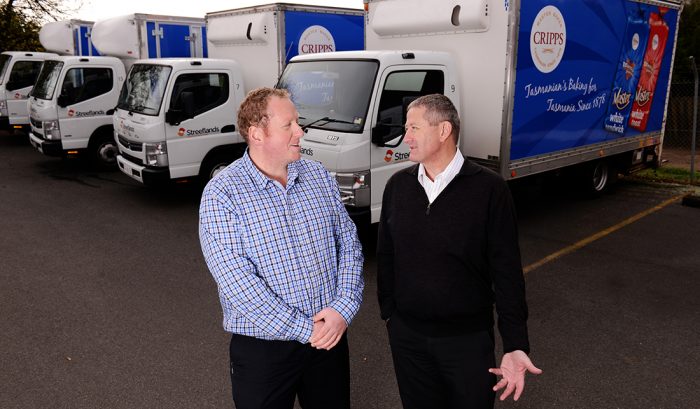 History
Rick and Theresa Streefland purchased a milk, bread and general freight company that serviced Tasmania's Northern Midlands in 1986. Three years on they added to the workload through the purchase of a furniture delivery business.
It was in 1991 that the husband-and-wife team decided to step out of general freight and concentrate on client specific contracts. The Davies Brothers contract was the first to point Streeflands Transport in this direction. Providing delivery of the Mercury Newspaper and associated publications across Nothern Tasmania.
In 2008 a new generation entered the family business with Troy coming on board as operations manager. Working closely with Rick they took Streeflands Transport to a new level providing seamless logistic and warehousing solutions. With this new vision for the business Streeflands Logistic Solutions was created, carrying on the service traditions of the past in a more functional format.
In 2015 Rick handed over the reigns to Troy who is now leading the strategic direction of the company. Troy to continues to provide our clients with that same level of exceptional service that formed Rick's vision some 30 years ago.